Our Saddles and Accessories Shop
Here at Garrett Saddlers we call our shop the Tardis, everything you need from grooming to feed under one roof.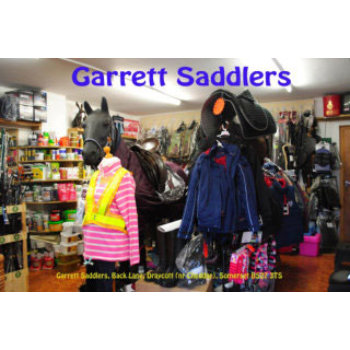 We've got it somewhere!  We carry everything needed - a complete stock from head to toe for horse and rider from all the top brands.
We average a one week turnaround for rug laundry and repairs at competitive prices. Our saddle repairs done on site and we also undertake most leather tack repairs. 
Our shop holds a large range of over 200 new and secondhand saddles from 12" to 19". Our main ranges held are:
Hilton
Fieldhouse - GFS
Pessoa
Monarch
Albion
Ideal
Excelle
Jeffries
Black Country
and many other brands are available on special order.
Check out our Facebook page for more information plus regular news of bargains, sales and reduced goods!
Returns policy states that all stock can be returned within 14 days of purchase in the same condition as when it was purchased.